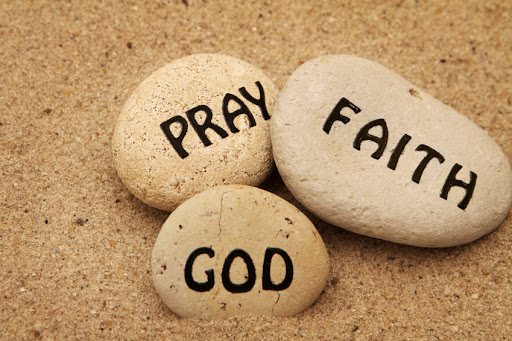 Devotional for April 9,2020
Pastor Bill Pursley, EBCWF
As I sat this morning praying for clarity on what to pass on to you today. I was listening to some gospel music specifically one of my favorite tenors (John Starnes) as he sang this great song of faith. "Pray is the Key to Heaven" here are the words: Prayer is the key to Heaven, but Faith unlocks the door. Words are so easily spoken but prayer without faith is like a boat without an oar. Have faith when you speak to the Master that's all he ask you for.. Yes prayer is the key to heaven but faith unlocks the door.
I have had moments of fear in my life. Perhaps you have too. Have any of you been afraid that your company that you work for would close? Or perhaps that you would lose your job? Have you ever been afraid that you wouldn't have anything to eat? Have you ever been afraid of going to the dentist or the doctor? Have you ever been afraid of what the X-ray or the CT scan or the MRI might reveal?
The global unrest we're experiencing, the corona virus pandemic, the shakiness of our once robust economy certainly causes us to be concerned. But we don't have to feed our fear, let's feed our faith. David said,
Psalm 56:3 (NKJV) Whenever I am afraid, I will trust in You.
So, when we face times of fear. You may not be afraid now because you have 100 rolls of toilet paper and a case of Ramen noodles. But when we DO FACE FEAR, we must learn how to FEED OUR FAITH and NOT our fears. How can we feed our faith and not our fears?
You feed your faith: 1. THROUGH THE WILL OF GOD
2 Timothy 1:1 (NKJV) Paul, an apostle of Jesus Christ by the will of God,
Everything Paul did since his conversion was because of following the will of God for his life. Nothing happens to us but what God knows about it in advance, did it ever occur to you that nothing has ever occurred to God? He knows about it before it ever happens AND He allows it for our good and His glory.
2. THROUGH THE WAY OF THE SON
The way of Jesus is life! That's the Gospel of Jesus Christ. He offers life, by His grace (undeserved forgiveness and justification) & mercy (deliverance from sin and the death we deserve) and gives us peace!
I want to tell you today, if you don't know Jesus Christ as your Savior, if you will repent of your sin and believe that Jesus died on the cross in your place for your lawbreaking and believe that He was buried and rose to life…you can be saved! You can never feed your faith if you don't HAVE faith in Jesus Christ.
3. Through friends:
Proverbs 12:26 (NKJV) The righteous should choose his friends carefully, For the way of the wicked leads them astray.
Let me ask you: Do the people you consider to be YOUR friends, help or hinder you in your service to the Lord? If they hinder you, you need to get some new friends! You feed your faith with the kind of friends you have.If you have godly friends, they will help you to be a godly person too!
Hey folks, we may be in a dark time…not just for our country, but the world. Stay close to Jesus. Whatever you think about what's happening…regardless of who's at fault…God has allowed this to happen in His Will. The Way of the Son is life in Jesus Christ. The Worth of our Friends are valuable to us! Let's Worship as a Family. As we are able, let's do the Work of the Ministry…we can be the Lord's hands, feet and mouth in this dark and difficult time. And we can do that because the Witness of the Spirit in our lives is one of Power, Love and Discipline.
Prayer is the key , But faith turns that key.
Until next time remember, God loves you and so do I.
Bro. Bill