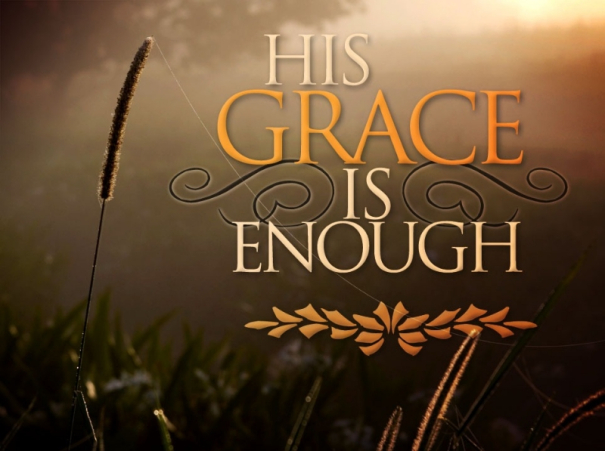 Devotional for April 6, 2020
Youth Pastor Jeff Hughes, EBCWF
I know that these are tough times but when I woke up this morning, I saw my beautiful wife, heard a bird singing outside in the dark, and I was reminded how good God is and that He is in control. God has got this and no matter what "this" is, His grace is enough.
Paul Wrote:
7 So to keep me from becoming conceited because of the surpassing greatness of the revelations, a thorn was given me in the flesh, a messenger of Satan to harass me, to keep me from becoming conceited. 8 Three times I pleaded with the Lord about this, that it should leave me. 9 But he said to me, "My grace is sufficient for you, for my power is made perfect in weakness." Therefore I will boast all the more gladly of my weaknesses, so that the power of Christ may rest upon me. 2 Corinthians 12:7-9 ESV
We don't know exactly what Paul's thorn was because he never tells us. Some have suggested that it was disease or sickness. Whatever the case, it was a chronic and debilitating problem, which at times kept him from working. This thorn was a hindrance to his ministry, and he prayed for its removal; but God refused. Paul was a very sufficient person, so this thorn must have been difficult for him. However, it kept him humble, reminded him of his need for constant contact with God, and benefited those around him as they saw God at work in his life.
Although God did not remove Paul's affliction, He promised to demonstrate His power in Paul. The fact that God's power is displayed in our weaknesses should give us courage and hope. As we recognize our limitations, we will depend more on God for our effectiveness rather than on our own energy, effort, or talent. Our limitations not only help develop Christian character but also deepen our worship, because in admitting them, we affirm God's strength.
So, whatever your thorn is, God's grace is sufficient. His grace is not a gentle shower washing away the problem. It is a raging, roaring river whose current knocks us off of our feet and carries us into the presence of God. It is plentiful and powerful. It meets us right now and equips us with courage, wisdom, and strength. So hang on – the wave is coming!!!
Let go and let God. Amen.
Bro. Jeff
Your Grace is Enough by Chris Tomlin
https://youtu.be/vpYtYYaTFGQ