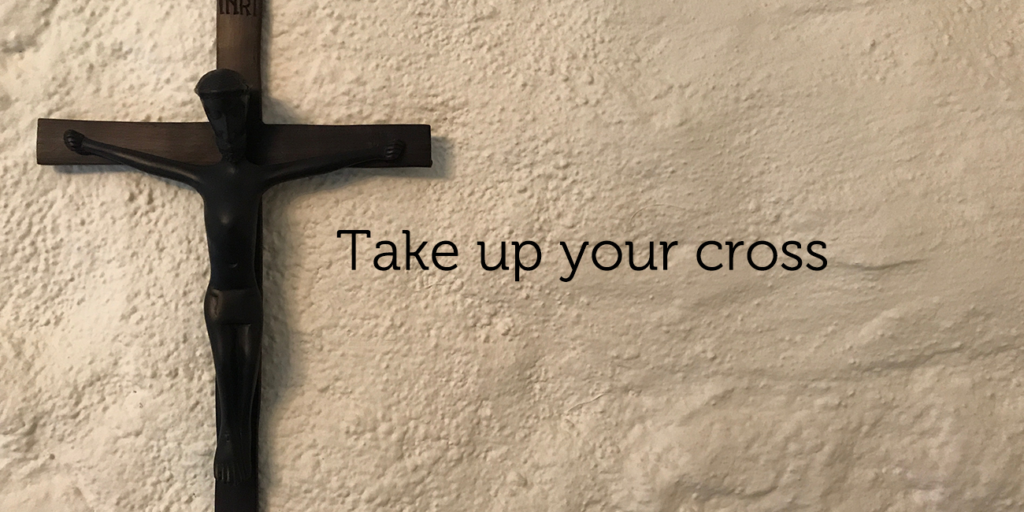 Devotional for Good Friday April 10, 2020
Youth Pastor Jeff Hughes, EBCWF
If this quarantine has showed me anything, it is that I am a creature of comfort.  I have my favorite coffee mug, my favorite TV shows, and, just like Sheldon on the Big Bang Theory, I have my favorite spot on the couch.  We tend to hold on to things that are safe and secure which, by the way, is not always a bad thing.  BUT…
God often asks us to get out of our comfort zone and set ourselves aside for his glory. He wants us to trust him, but we can only do that when we let go and obey.  As I thought about this, it brought to mind the passages in Luke where Jesus predicted his death for the first time:
21 And he strictly charged and commanded them to tell this to no one, 22 saying, "The Son of Man must suffer many things and be rejected by the elders and chief priests and scribes, and be killed, and on the third day be raised."  23 And he said to all, "If anyone would come after me, let him deny himself and take up his cross daily and follow me. 24 For whoever would save his life will lose it, but whoever loses his life for my sake will save it. 25 For what does it profit a man if he gains the whole world and loses or forfeits himself? 26 For whoever is ashamed of me and of my words, of him will the Son of Man be ashamed when he comes in his glory and the glory of the Father and of the holy angels. 27 But I tell you truly, there are some standing here who will not taste death until they see the kingdom of God." Luke 9:21-27
This was a turning point in Jesus' instruction to His disciples.  From then on he began teaching clearly and specifically what they could expect, so that they would not be surprised when it happened.  He told them that before he could be the conquering Messiah he first had to suffer, die, and rise again.
But where I really want to focus today is on the next couple of verses (23-24).  We follow Jesus by imitating His life and obeying His commands right?  So what does it mean to take up your cross?  It means that we must deny our selfish desires and to use our time and resources to follow Him, regardless of the comfort level or consequences.
Jesus subjected himself to public mockery, severe beatings, and one of the most horrific deaths the world has ever come up with. As the Son of God, he didn't have to endure anything; he wasn't a prisoner of the Roman soldiers any more than he allowed himself to be. Even in those last excruciating hours nailed to the cross, he could have opted out. But Jesus understood his suffering was not about him; it was the only way to restore sinners like you and me to our loving heavenly Father.
People are willing to pay a high price for something they value.  Is it any surprise that Jesus would demand this much from his followers?  There are at least three conditions that must be met when we become disciples:
We must be willing to deny self
We must be willing to shoulder our cross
We must be willing to follow Him
Look, God doesn't force us to follow him. He doesn't put the cross on us, but asks us to pick it up willingly.   Our decision will cost us something; there's heavy lifting, rejection, and personal interruptions. Actually, it will cost us everything.    The only way to get the life we work so hard to protect is to give it back to God and trust him to take care of it.
Nothing material of this world can compensate for the loss of eternal life.  Remember, this world is temporary and souls are at stake!  Are you ready to take up your cross today get dirty for the sake of the Gospel?
Armor up, pick it up, and let's go!
Bro. Jeff